Sanctuary Golf Club Cooking Demo Recipes
Posted by Kasey Albright on Thursday, January 21, 2021 at 5:11 PM
By Kasey Albright / January 21, 2021
Comment
The Sanctuary Golf Club on Sanibel Island hosted a Ladies Lunch Bunch Cooking Demo on January 21st, 2021. Executive Chef Derek Bryner demonstrated how he prepares some of the Sanctuary's most popular dishes. I have included the recipes below for you to try at home!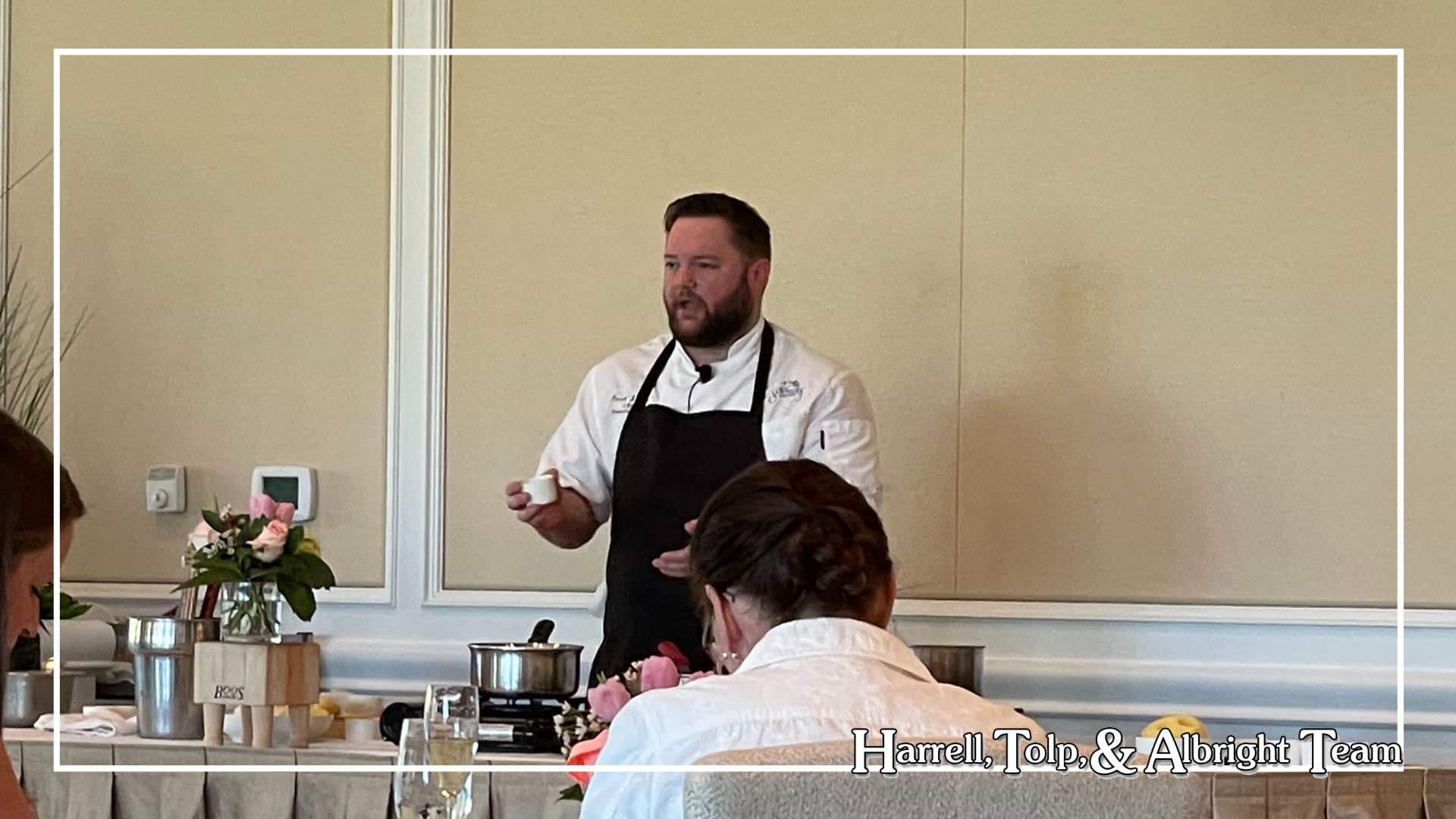 Local Organic Garden Winter Salad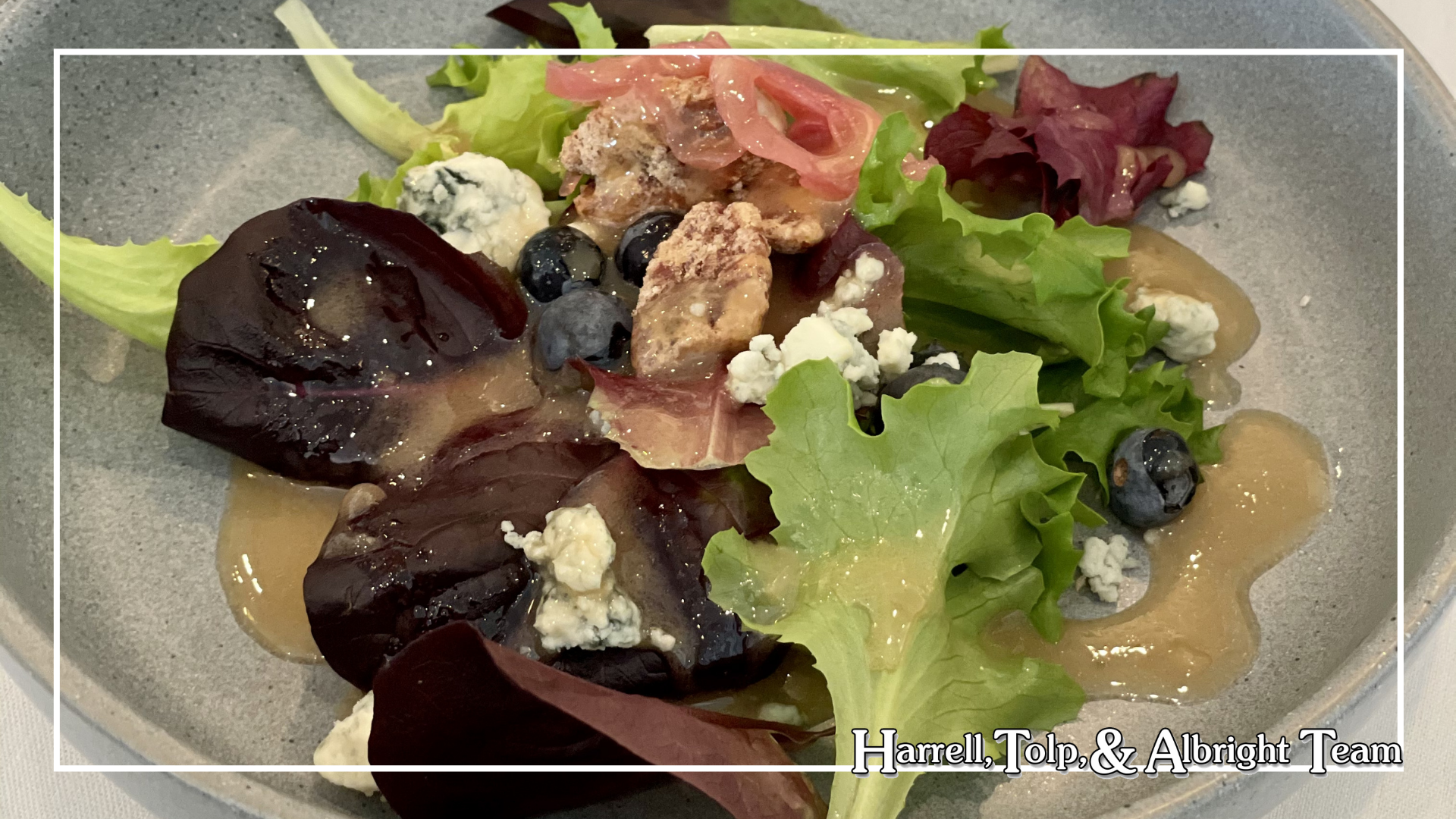 East Fork Creek Organic Greens, Vanilla Poached Pears, Blueberries, Blue Cheese Candied Pecans, Picked Onion, Apple Cider Vinaigrette
Apple Cider Vinaigrette
Ingredients:
Apple Cider - 1 Quart
Apple Cider Vinegar - 3 oz
Sauteed Shallots - 1 Each
Dijon Mustard - 1 Tbsp
Sunflower Oil - 1 Pint
Start by reducing the apple cider from 1 quart down to 8-10 ounces, to strenghthen the flavor and improve the viscosity. While the cider reduction cools, saute the shallot on medium-low until aromatic and translucent. Once those two items have cooled, add all ingredients to your blender except for the oil. Make sure your blender is on low with the lid on. Start blending your ingredients on low, work up to medium and eventually on high. Slowly add your sunflower oil with the blender running on high. Once the oil is gone, keep it running for a few seconds to be sure the oil is well incorporated.
Vanilla Poached Pears
Ingredients:
White Wine - 1 Pint
Water - 1 Pint
Sugar - 10 oz
Cinnamon Stick - 1 Each
Vanilla Bean (Halved and Scraped) - 1 Each
Ripe Pears - 4 Each
Place all the ingredients except the pears in a stainless-steel saucepan. Do not turn on the heat. Peel the pears, then add them to the pan. Place them onto the stove and bring to a boil. Reduce to a simmer and cook the pears carefully.
Once cooked, remove the pan from the heat and allow the pears to cool in the sugar syrup. To check if they are cooked, take a paring knife, and push it into the middle of the fruit. If the pears feel soft, they are cooked. They can be served hot or cold.
Candied Pecan
Ingredients:
Pecan Halves - 16 Each
Brown Sugar - 2 oz
Egg Whites Whisked - 2 Each
Whisk egg whites until frothy and turn slightly white. Add pecans, sugar and pinch of salt and pepper, then toss. Place on baking sheet and cook at 350 for 10-11 minutes.
---
Sole French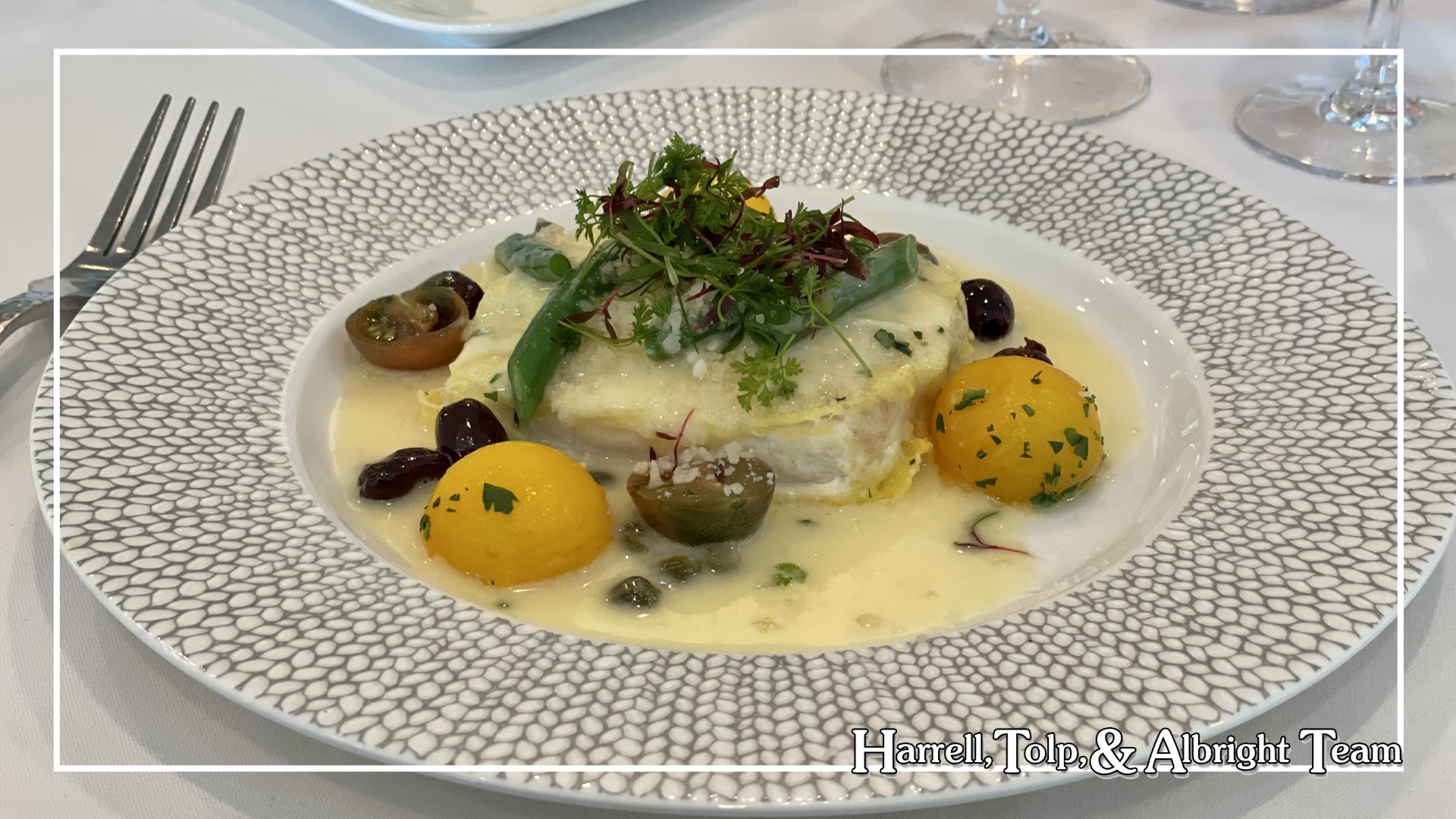 Saffron Potato, Nicoise Olive, Crispy Haricot Vert, Capers, Heirpool Tomatoes, Citrus Beurre Blanc
Saffron Tea
Ingredients:
Saffron Threads - 1 Pinch
Bay Leaf - 2 Each
Black Peppercorn - 6 Each
Corriander - 10 Seeds
Kosher Salt - 3 oz
Simmering Water - 1 Quart
Add all ingredients to a small pot and bring to a simmer, then shut off. Let sit overnight if possible.
Saffron Potatoes
Ingredients:
Peeled Yukon Gold Potatoes - 4 Each
Using a melon baller scoop out potatoes, enough for 3 or 5 pieces per person. Strain all ingredients out of the tea. Bring saffron tea up to a simmer with potatoes in it, simmer potatoes for 4-5 minutes. Turn off heat and let potatoes sit for 10 minutes.
Citrus Beuree Blanc
Ingredients:
White Wine - 12 oz
Kaffir Lime Leaf - 4 Each
Shallot (sliced) - 1 Each
Black Peppercorn - 4 Each
Butter - 16 oz
Lemon Zest and Juice - 2 Each
Add first 4 ingredients to a small sauce pot and reduce until most all liquid is gone. Once you have reduced it to 1-2 ounces, turn the heat down to very low and start slowing wisking in your butter 2 ounces at a time. Once all butter is incorporated, strain and stir in lemon juice, zest and a pinch of salt. Reserve in a warm place like the corner of the stove top.
Sole French
Ingredients:
Sole Filet - 4 Each
Corn Starch - 1 Box
Whisked Egg - 6 Egg
Heirloom Grape Tomatoes - 16 Each Halved
Nicoise Olives - 20 Each
Haircot Vert - 12 Each (blanced and halved)
Capers - 2 Tbsp
Season the trimmed sole filet, lightly dust in corn starch, then dip and coat in whisked eggs. Place nonstick saute pan on medium heat, add 2 tablespoons of extra virgin olive oil and saute the sole until golden. Flip and repeat. Place pan with fish still inside into a 325-degree oven, and cook for 9-10 minutes until fish reaches 145 degrees interal temperature.
To Plate:
Add your tomatoes, capers, olives, haircot vert, and saffron potatoes to your beuree blanc and bring up to temperature on medium-low to get all ingredients warm. Place sole in center of plate and randomly place all your vegetables around the fish, garnish with parmesan cheese, chopped parsley and chive. Enjoy!
---
Creme Brulee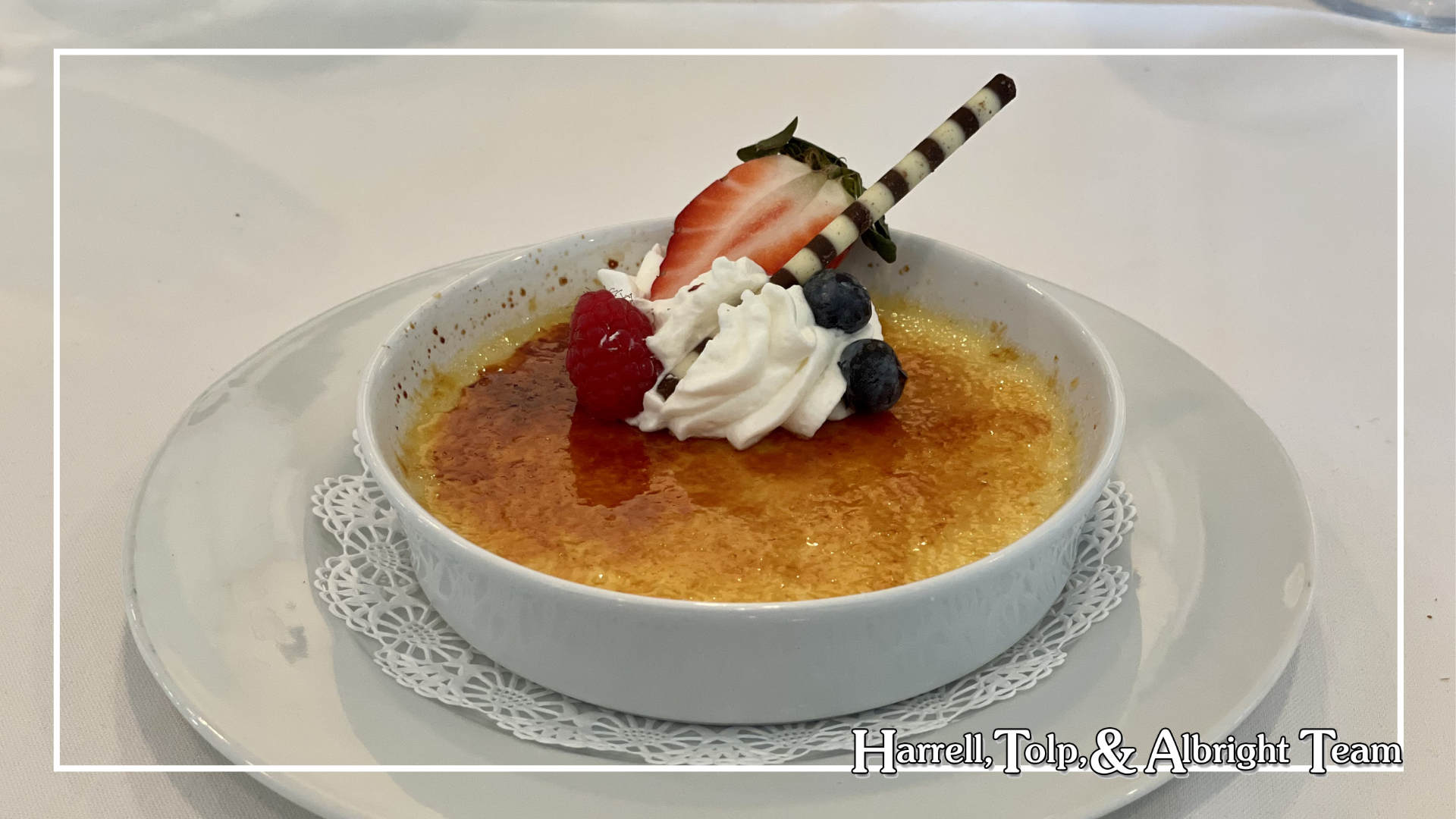 Amaretto and Vanilla Bean Custard, Carmelized Sugar
Vanilla Custard
Ingredients:
Heavy Whipping Cream - 2 cups
Amaretto Liqueur - 2 Tbsp
Almond Extract - 1/2 tsp
Egg Yolks - 6 Each
Vanilla Beach (split and scrapped)
Sugar - 1/2 cup + 4-6 Tbsp for topping
Preheat over to 350 degrees.
In a saucepan, bring cream, Amaretto, Vanilla Bean, and almond extract to a boil. Scold the cream.
Meanwhile, whisk egg yolks with 1/2 cup granulated sugar. Slowly whisk the hot cream into the egg yolk mixture until well blended, gradually adding the hot liquid so the eggs don't cook.
Place 4-5 shallow individual 6 to 8-ounce baking dishes in a large baking or roasting pan. Pour cream mixture into the baking dishes. Pour boiling water into the baking dish to about halfway up the small baking dishes.
Carefully place the pan in the oven. Bake for about 20 minutes, or until the centers barely move. You may have to adjust the baking time, depending on the size/depth of the baking dishes. Cool the creme brulee, then chill overnight.
Sprinkle each creme brulee with 2-3 teaspoons of sugar. Carefully torch to melt the sugar, moving and taking care not to burn. Move in a circular motion, about 1 1/2 to 2 minutes.
Garnish with whipped cream and fresh berries.