Sanibel 4th of July 2018
Posted by Kasey Albright on Sunday, June 3, 2018 at 2:23 PM
By Kasey Albright / June 3, 2018
Comment
Sanibel 4th of July 2018
We can't imagine a better place to celebrate the 4th of July than on Sanibel Island. From a local parade to a fun road rally scavenger hunt to incredible fireworks over the water, you will have a full day of family fun celebrating our nation's Independance Day! We have included our tips and tricks for making your 4th of July on Sanibel Island your favorite holiday!

7 a.m. - 9 a.m. - Free Pancake Breakfast
Sanibel Community Church, 1740 Periwinkle Way
9:30 a.m. - Independence Day Parade
"Wild About America"
Parade Route begins at Tarpon Bay Road on Periwinkle Way to Casa Ybel Road.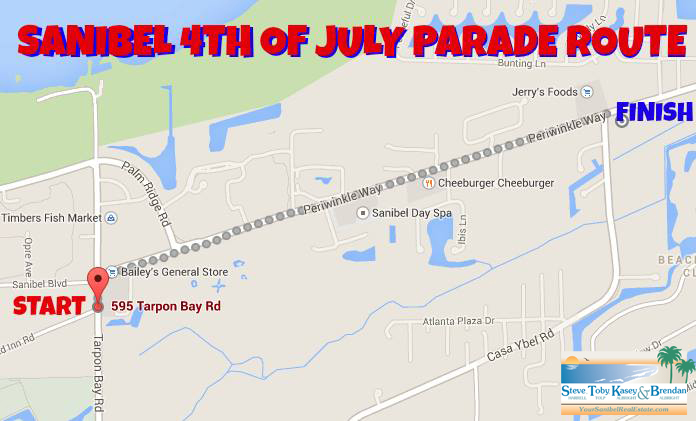 The Sanibel 4th of July Parade starts at 9:30 am at Bailey's Shopping Center, travels down Periwinkle and ends at the corner of Casa Ybel in front of Bank of the Islands. Periwinkle will be closed from Donax Street to Tarpon Bay Road from 9AM-Noon. Parade Parking will be available at Jerry's Shopping Center, Sanibel Community Church, Tahitian Gardens Shopping Center, Forever Green/ACE Hardware, Congegational Church, Periwinkle Place Shopping Center, Sanibel Community House, Sanibel Square, The Village Shops, Palm Ridge Place, and Baileys.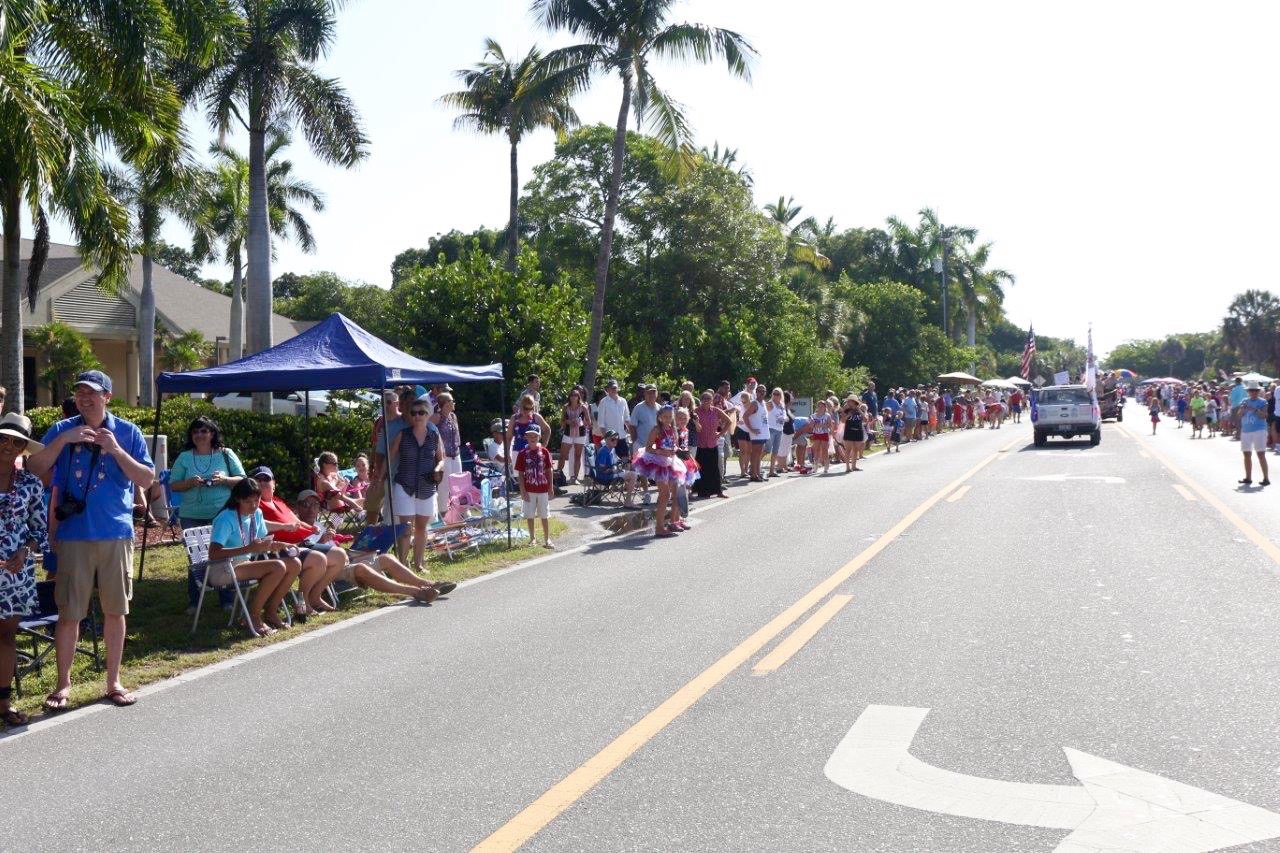 Be sure to get there early because thousands of people come out every year to enjoy the parade. Bring chairs to set up along Periwinkle and plenty of bottles of water. Businesses and families will be throwing out candy and goodies!




10:30 a.m. – 2:30 p.m. - July 4th Celebration at Jerry's (After Parade)
Jerry's Shopping Center, 1700 Periwinkle Way
Water slide, food, & refreshments.
12 p.m. San-Cap Optimist Club's 38th Annual Road Rally
Timbers Restaurant, 703 Tarpon Bay Road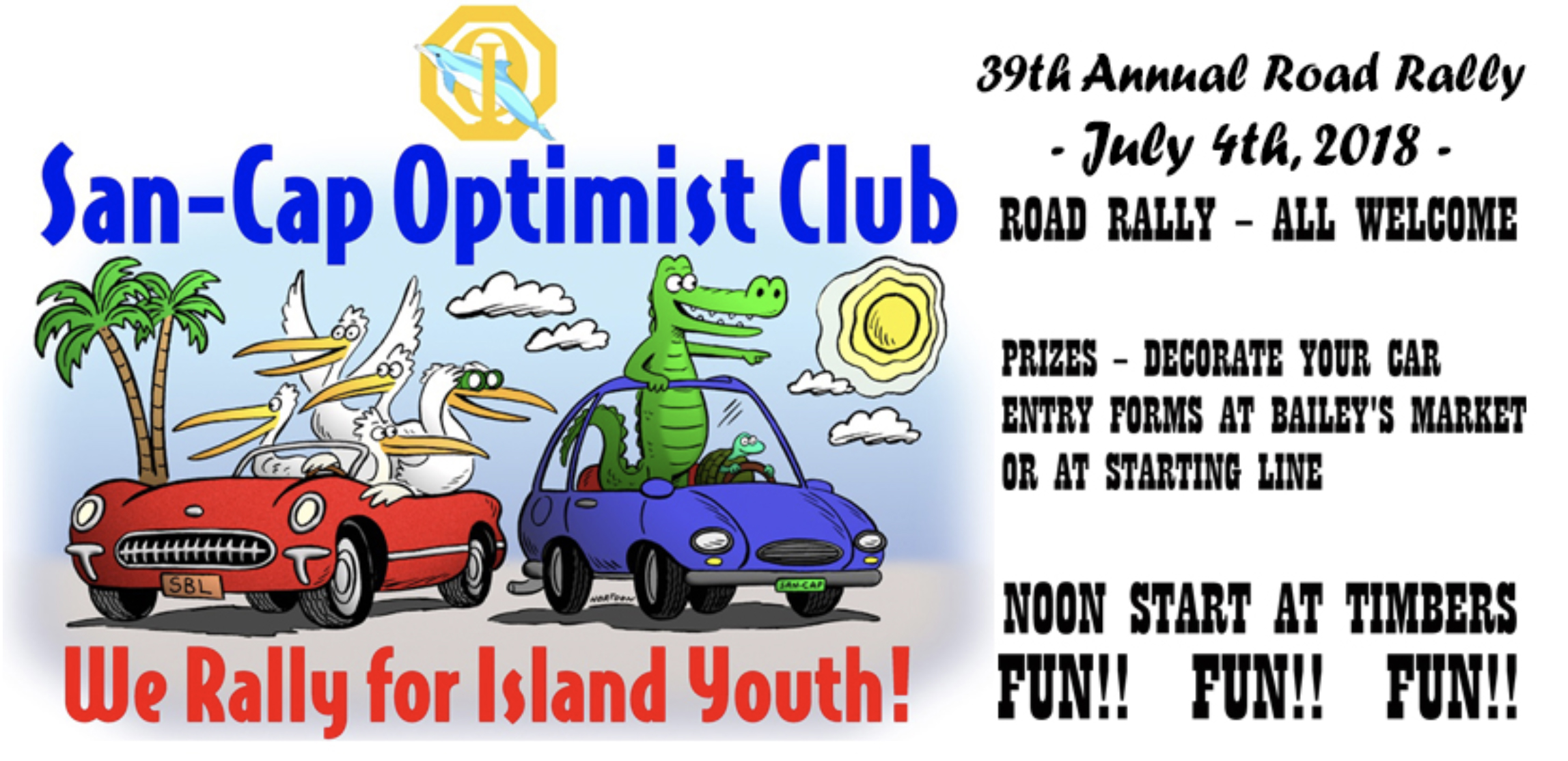 It's soon Road Rally Time!
SO… polish your sunglasses. clean up your driving gloves, get your team ready and prepare to have some fun!
Sanibel's longest-running 4th of July event, the Sanibel-Captiva Optimist Club's Road Rally, celebrates 39 years of fun for teams and families as they puzzle out the clues while following a prescribed driving course around the Island.
Prizes will be awarded for correct time and mileage, for the most correct answers to the quiz about things seen along the route, as well as for the best decorated vehicle and the team coming from the farthest location. A "50/50 raffle" will also be available. Fun for everyone!
NEW: This year a photo of the best decorated vehicle may qualify as the art work for next year's T-shirt and poster!
Choose your team (a driver, navigator and spotters are usual), fill in the entry form from Bailey's General Store, Sanibel Cafe, or Sanibel-Captiva Community Bank, the newspaper, from the website "sancapoptimist.org" or also available at the starting line. Mail it, together with this year's pre-registration entry fee of $40 ($45 walk-in fee at starting line), to San-Cap Optimist Club, PO Box 1370, Sanibel, FL 33957, or bring it to the starting line (credit cards OK).
Entry Fee includes: Car, Driver, Navigator, Unlimited Crew, and 1 Official Road Rally T-Shirt (Additional T-Shirts will be available for $15.00). The number of entries is limited so register early.
NOTE: This year the rally begins in Timbers Restaurant/Sanibel Grill parking lot (only one-half block north of Bailey's General Store at 703 Tarpon Bay Road) at 12 NOON on the 4th of July, and also ends there for the "afterglow" party. Staggered starting times (every two minutes) will be pre-assigned by the rally master.
DOWNLOAD YOUR REGISTRATION FORM HERE
9:00 p.m. - Fireworks Display (Rain or Shine)
What 4th of July wouldn't be complete without fireworks? People come from all over to celebrate on Sanibel and there are just a few of our favorite places to watch the fireworks. Fireworks begin approximately 9 PM.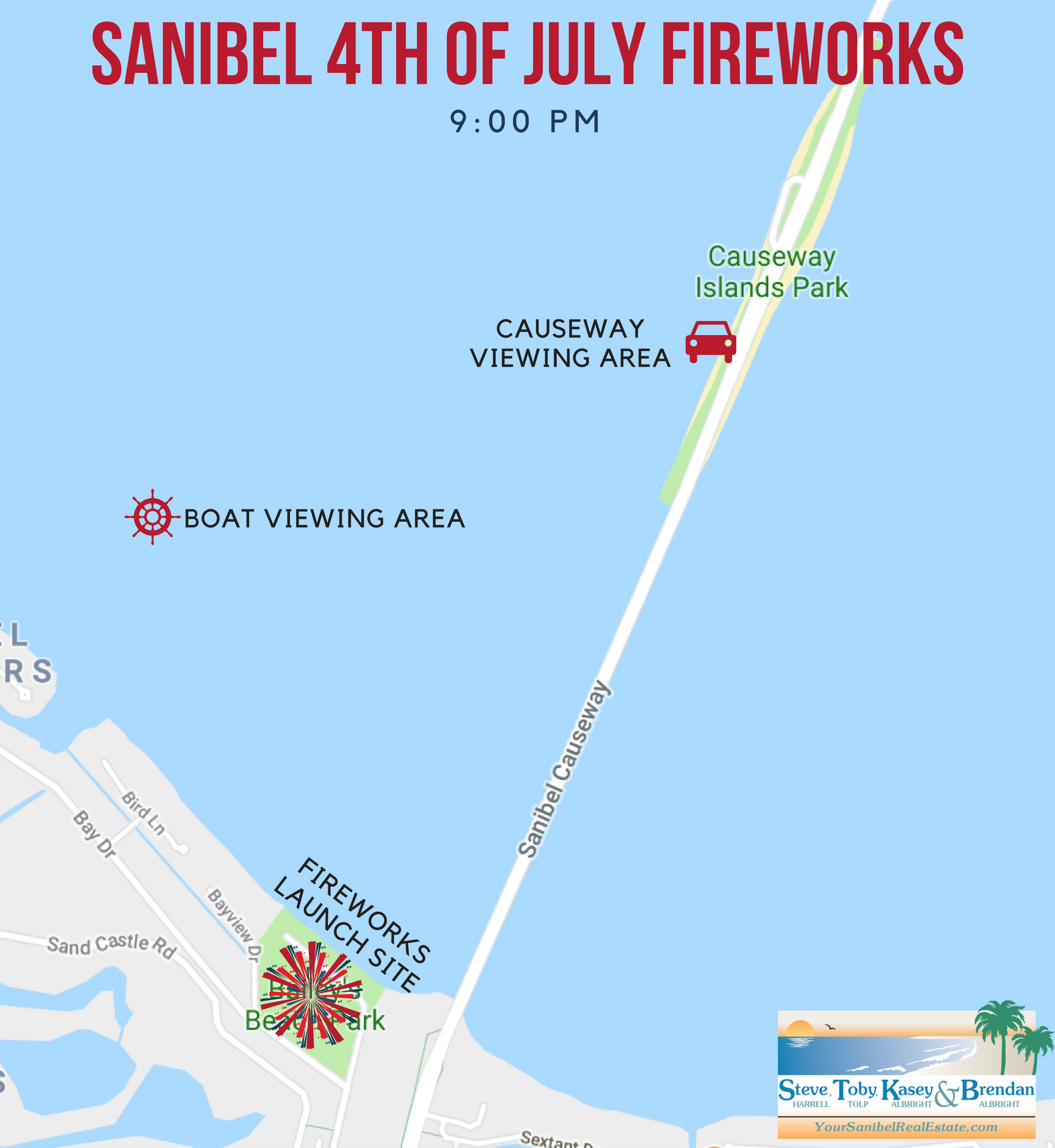 The first of our favorite spots to watch the Sanibel 4th of July Fireworks is on the CAUSEWAY in between Sanibel & Fort Myers. Since fireworks will be launched from the north end terminus of Bailey Road, you get a great view. If you are driving from Sanibel, the best spot is the first causeway island you come to on the left hand side. If you are coming from Fort Myers, you should try to get to the island closest to Sanibel, on the right hand side. But remember, those spots will fill up first, so go early! Most people bring food, drinks and chairs so they can make an evening of it. There are a few grills along the Causeway.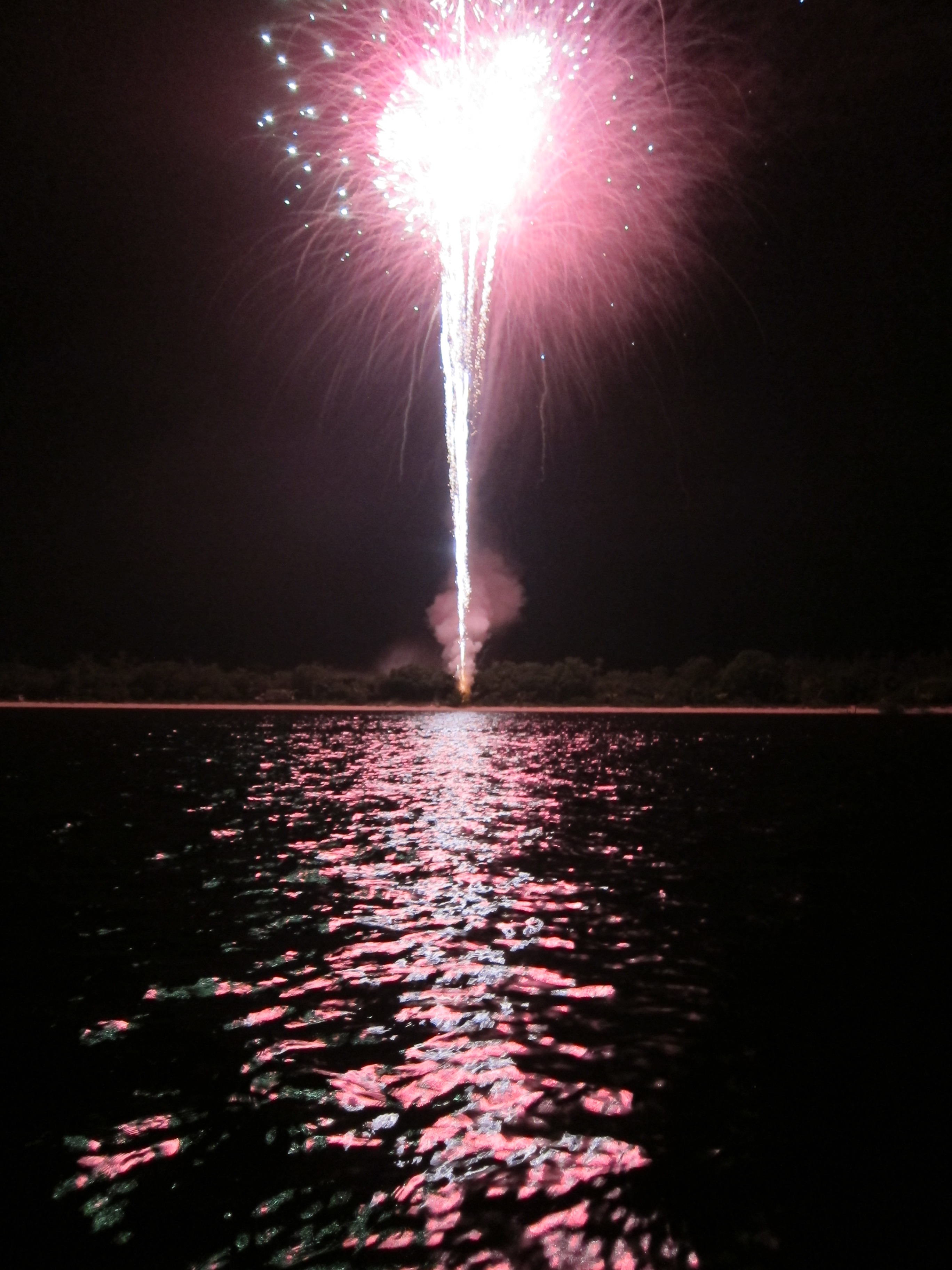 The second of our favorite places to watch the Sanibel 4th of July Fireworks is on a BOAT. If you are lucky enough to have a boat or if you make sure to reserve one early enough at one of the boat rental companies, they you can have the closest seat to watch the fireworks go off. The past few years we have watched the fireworks from our family's boat, and it has been an AMAZING site. The way the fireworks reflect off the water is beautiful!