Sanibel Requiring Face Masks Indoors
Posted by Kasey Albright on Tuesday, June 30, 2020 at 1:49 PM
By Kasey Albright / June 30, 2020
Comment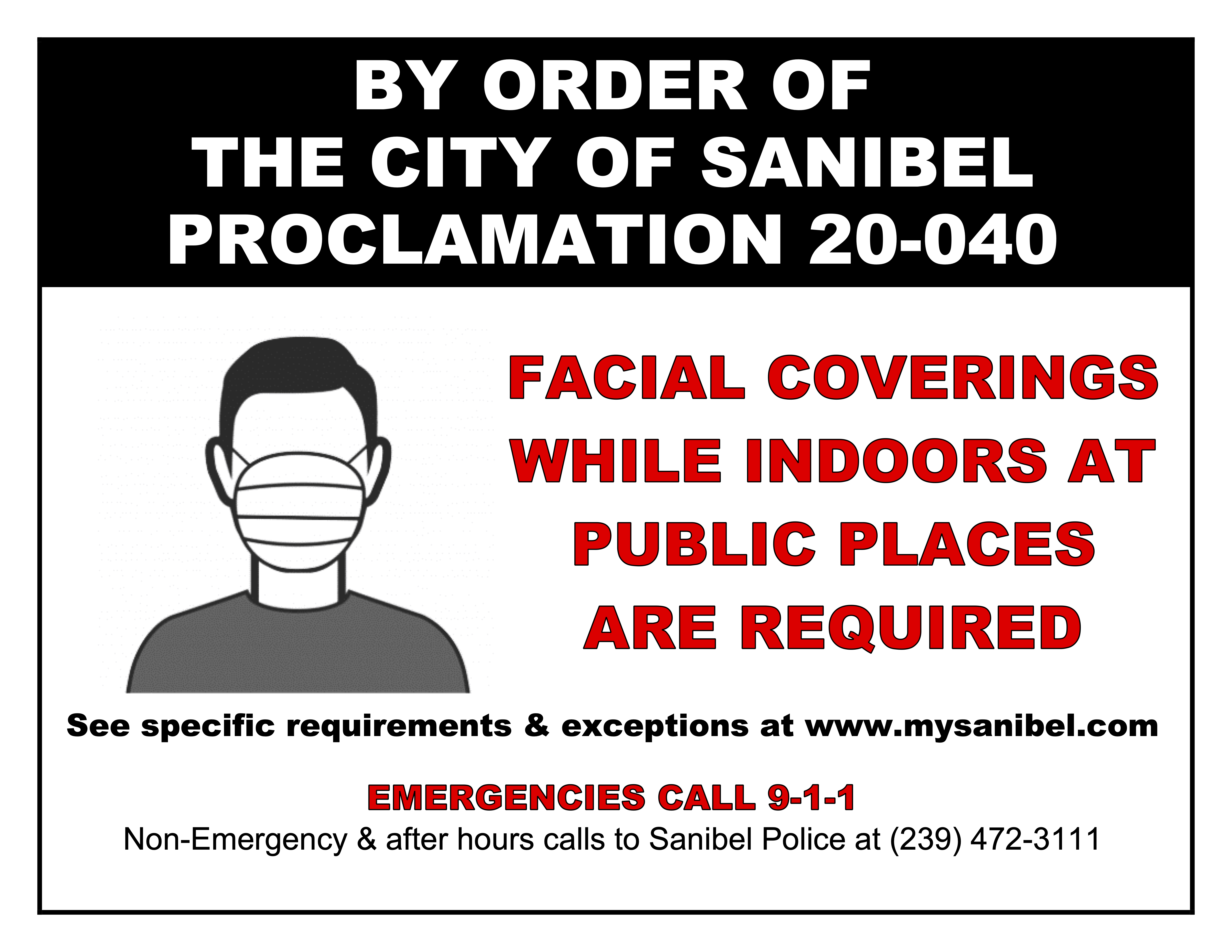 Today, Tuesday, June 30th, 2020, due to the COVID-19 pandemic the Sanibel City Council voted in support of:
Require the use of Face Coverings (with certain exceptions)
For the purposes of this restriction, the following terms are defined as follows:
"face covering" means a breathable material that covers the nose and mouth of an individual, secured with ties or straps or otherwise wrapped around the lower face, whether purchased, homemade or improvised.
"business or other place of public accommodation" means a location with a roof overhead under which any business is conducted, goods are made or stored or processed, or where services are rendered, which includes locations where for-profit, non-profit, and governmental entities facilitate public interactions and conduct business, but it does not include places of religious worship, such as churches and synagogues.
1. Every person over two years of age who is away from his or her place of residence should carry a face covering capable of immediate use.
2. Every person over two years of age who is away from his or her residence should wear a face covering when closer than six feet to another person with whom he or she does not reside.
3. Individuals-whether an owner, worker, patron, or otherwise-of a business or other place of public accommodation are required to wear a face covering while indoors within that business or public accommodation.
4. Individuals are not required to wear a face covering while outdoors in public areas anywhere with appropriate social distancing of six or more feet between individuals who do not reside together, including but without limitation, at the beach, on the shared use path, or playing golf.
5. The requirement to wear a face covering does not apply to any of the following individuals (although such individuals are not prohibited by this restriction from wearing face coverings if they so choose):
Children under two years of age;
Individuals who have one or more medical conditions or disabilities that prevent wearing a mask or otherwise would cause impairment due to an existing health condition;
Individuals obtaining a service from a barbershop, beauty salon, or other type of service involving the head or face, where temporary removal of the face covering is necessary to perform the service;
Individuals who are engaged in work where use of a face covering will not be compatible with the duties of the profession;
Restaurant or bar customers or patrons, only while seated at a table or bar.
Individuals who are exercising.
Owners or workers in an area of the business or other place of public accommodation that is not open to customers, patrons, or the public, provided that six feet of distance exists between any owners or workers. This exception does not apply to owners or workers in the kitchen or other food and beverage preparation area of a restaurant or food establishment.
Guests when inside of a hotel room, motel room, vacation rental unit, timeshare unit, or similar unit.
Individuals worshiping in a church, synagogue or other place of religious worship.
6. Violations are subject to fines of $50 per violation. Businesses or other places of public accommodation are encouraged to post signage of this Proclamation and adopt a "no mask, no service" policy to facilitate enforcement.
City Council Meeting Audio