What Awards Has Sanibel & Captiva Won?
Posted by Kasey Albright on Monday, July 18, 2022 at 9:45 PM
By Kasey Albright / July 18, 2022
Comment
Sanibel & Captiva have won many awards over the years and we have compiled a list of the many distinctions.
Travel + Leisure 15 Best Islands in the Continental U.S.
July 12, 2022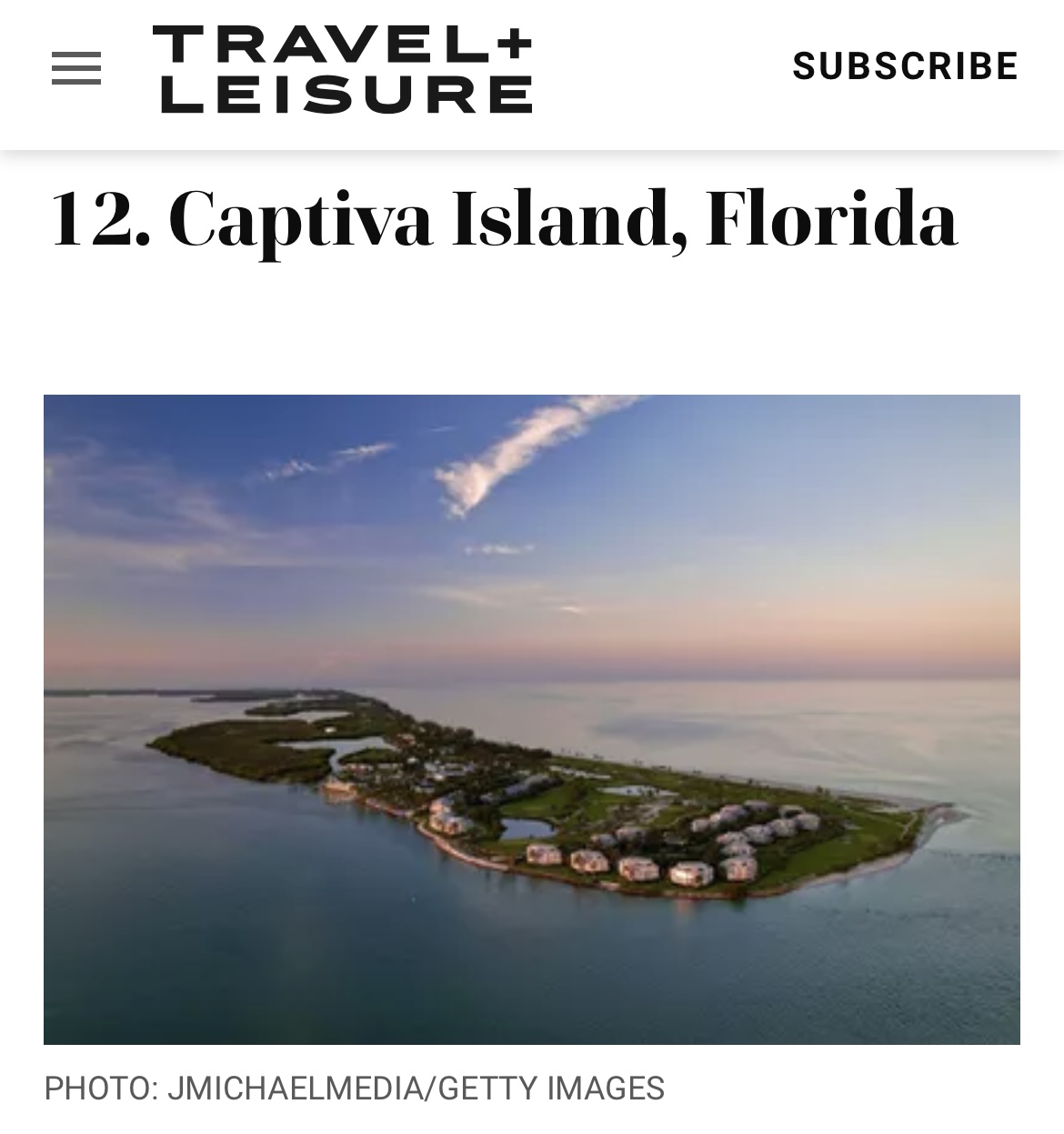 Located on the Gulf Coast, this island is known for its low-key vibe and beaches with abundant seashells. Many travelers opt to rent a vacation home, but there are also a handful of family-friendly hotels, including the South Seas Island Resort, which offers a marine-life–focused day camp for kids.
Score: 82.43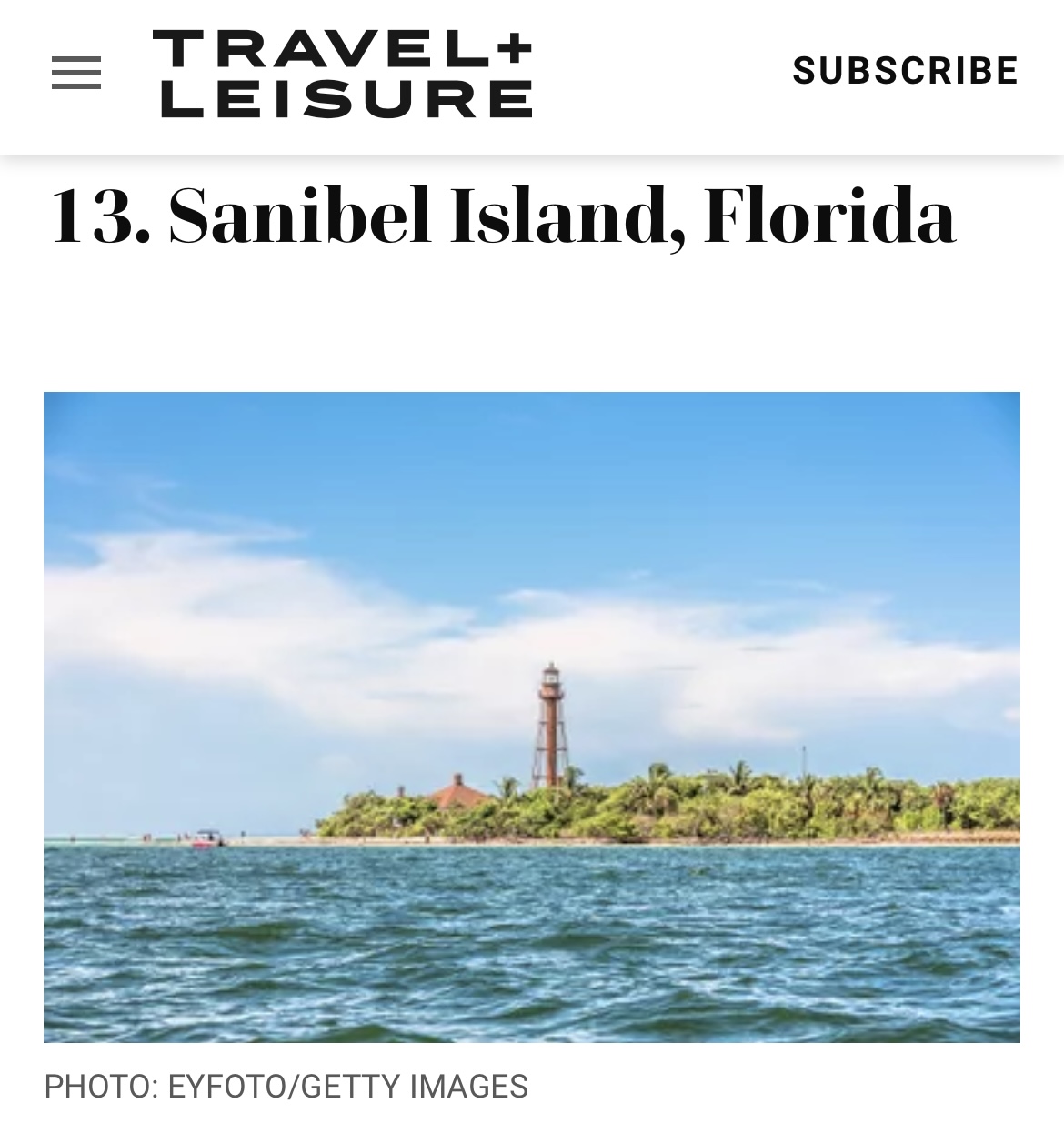 Captiva's sister island has equally beautiful beaches, but travelers will also find opportunities for offbeat fun, including the Bailey-Matthews National Shell Museum.
Score: 82.29
---
Travel + Leisure 14 Best Beaches in Florida
July 11, 2022
Seashell collectors have long known about this stunning island southwest of Fort Myers. Here, seashells from the Gulf of Mexico wash ashore, attracting collectors from all over the world — so it's no surprise Bowman's Beach makes this list of best beaches in Florida. Spend the cool mornings curating your perfect stash of shells on Bowman's Beach before laying down a towel under the warm sun.
---
Travel + Leisure 12 Best Tropical Vacations in the U.S. for Stunning Islands, Charming Beach Towns, and Beautiful Resorts
May 4, 2022
Part of a group of barrier islands in the Gulf of Mexico off the coast of southwest Florida, Sanibel Island is known for its abundant seashells. White-sand beaches, warm waters, mild weather, and plenty of birds and other wildlife create a tropical environment. Visitors can enjoy golf, tennis, boating, biking, and searching for seashells.
---
Travel + Leisure's 10 Most Charming Small Town's in Florida
May 20, 2021
Sanibel, located on Sanibel Island in southwest Florida, is known for its picture-perfect Gulf beaches that are a sheller's paradise. And there's good reason for its reputation: It's one of the few islands that runs perpendicular to Florida's coastline (most run parallel), so the shells that wash ashore here are truly one of a kind.
Less than 7,500 people call Sanibel home, but this quiet community has great beaches, a fishing pier, a 19th-century lighthouse, a national wildlife refuge, and a boardwalk winding through marshes, so visitors will find plenty to do during a relaxed getaway. Plus, its location on the western coast guarantees spectacular sunsets.
---
Travel + Leisure's 10 Best U.S. Shelling Beaches
July 15, 2010
Why Go: This shellers' mecca attributes its bounty to a wide continental shelf. Bend over in a "Sanibel stoop" to hunt for the coveted junonia (a twisted cone shell with markings like a giraffe's spots): find one and you'll get your picture in the local papers. For the best pickings on this Manhattan-size island, head up to Bowman's Beach, on the northern end of the Gulf-facing beaches almost to Captiva Island. Rainy day? Get your daily mollusk fix at the island's Bailey-Matthews Shell Museum.
What You'll Find: Coquinas, scallops, whelks, and sand dollars.
—Kathryn O'Shea-Evans
---
Morning's America's Quietest Hotel
May 3, 2022
Parrot Nest on Sanibel Island, Florida, is America's quietest hotel overall. Almost half (47.66%) of reviewers use the word "quiet," and presumably, the rest are too blissed out to notice. The hotel consists of six secluded bungalows, each named after a local bird of paradise, on the "quiet side of the island." Says one guest: "My bed is comfortable and I have slept like a log" – and they're not the only ones to comment on the high-quality beds at the Nest.
---
Travel + Leisure Top 15 Islands in the Continental U.S. 2021
September 8, 2021
---
Travel + Leisure Top 15 Islands in the Continental U.S. 2020
July 8, 2020