What is open on Sanibel & Captiva?
Posted by Kasey Albright on Friday, November 4, 2022 at 6:02:51 PM
By Kasey Albright / November 4, 2022
Comment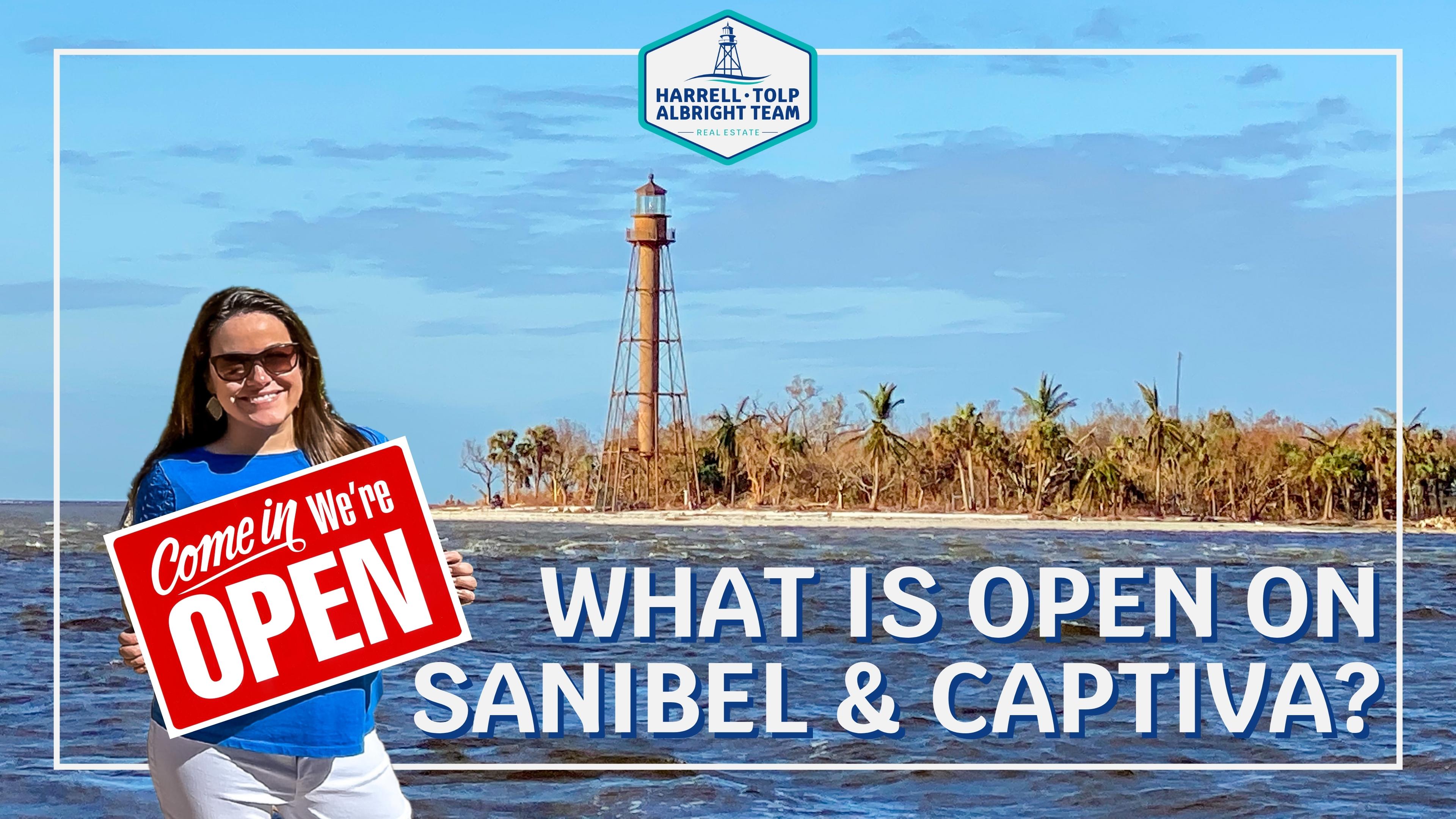 We have compiled a list of businesses open and island resources available on Sanibel & Captiva. As we hear of businesses opening, we will update the list. If you notice we are missing anything, please comment below.
ICE
• Sanibel Sea School - 455 Periwinkle Way • Sanibel
• Sanibel Community Church - 1740 Periwinkle Way • Sanibel
RESTAURANTS
• Cielo - 1244 Periwinkle Way • Sanibel (Limited menu and hours from 11:00 am until 6:00 pm Tuesday through Saturday)
• Jerry's Cafe - 1700 Periwinkle Way • Sanibel (7AM-2PM, limited options)
• Mud Bugs - 1473 Periwinkle Way • Sanibel (Initial hours are 11 am to 7 pm. Live music daily starting at 3pm.)
• Sanibel Deli - 2330 Palm Ridge Road • Sanibel (Monday & Thursday: 7am - 3pm, Tuesday & Wednesday, Friday: 7am - 4pm, Saturday: 7am - 5pm, Sunday: Closed)
• Sanibel Grill - 703 Tarpon Bay Rd • Sanibel (open Thursday-Sunday Noon-6PM with cold beer, full bar, limited menu, Sunday NFL ticket)
• Traders - 1551 Periwinkle Way • Sanibel (Serving lunch + dinner + cocktails from 11:00 AM - 7:00 PM Monday - Saturday. Live Music from 5:00 PM - 8:00 PM)
FOOD TRUCKS SELLING FOOD
• Gramma Dot's Parking Lot - 634 N Yachtsman Drive • Sanibel (Monday-Saturday 10-4)
GROCERY ITEMS
• Jerry's Foods - 1700 Periwinkle Way • Sanibel (8AM-4PM, limited options)
• The Island Store - 11500 Andy Rosse Lane • Captiva (limited hours)
NON-PERISHABLE FOOD & PERSONAL HYGIENE ITEMS
• FISH - 2430 Periwinkle Way • Sanibel
LAUNDRY, SHOWER, CHARGING STATION
• Sanibel Community Church - 1740 Periwinkle Way • Sanibel (behind the church)
CLEANING SUPPLIES
• FISH - 2430 Periwinkle Way • Sanibel (mold liquid, buckets, trash bags, gloves)
BIKE REPAIR & SALES
• Finnimores - 2353 Periwinkle Way • Sanibel (Offering FREE pickup and delivery on all repair bikes! Give them a call 239-472-5577)
BANKING
• Sanibel Captiva Community Bank - 2406 Periwinkle Way • Sanibel (The week of 11/7 staff will be onsite Monday and Wednesday from 11am to 2pm to provide existing island customers with limited banking services. For additional information or questions, call 239-472-6100 or 239-472-6150.)
HOTELS
• Island Inn - 3111 West Gulf Drive • Sanibel
The Island Inn is open right now and accepting reservations for pass-holding Property Owners, Businesses & Relief Workers! Interested parties are instructed to call the Inn directly at (239) 472-1561. Our 12 Luxury Suites in our Matthews Lodge were built to Cat 5 standards in 2017 and performed amazingly. Availability is on a first come, first serve basis. See full Rules, Guidelines, Terms & Conditions that must be signed at check-in here: https://islandinnsanibel.com/wp-content/uploads/2022/10/221031-Island-Inn-Booking-Rules-FULL-1.pdf
• Tween-Waters Resort - 15951 Captiva Dr • Captiva
I'm absolutely thrilled to report that day has arrived — today, November 16 — as 'Tween Waters Island Resort & Spa opens as Captiva's first resort to welcome overnight stays to individuals with approved access to the islands. We know you'll have many questions, please click here for more information. Plus, we're offering a special room rate starting at $99 per night now through December 31, 2022 to all the linemen, utility workers and emergency first-responders that helped make this day of reopening possible, as our way of saying thank you for your efforts. Enjoy our resort and its many great amenities short-term or long-term — for temporary housing, a needed break or even a little vacation with family! This is a call-only to book offer at 239.476.0311. Our rooms have been inspected, are clean, and safe, complete with electricity, air conditioning, water and internet service. Our amenities currently include our beautiful family pool, fitness center, tennis and pickle ball. Plus on Monday, November 28, 2022, our top-rated TripAdvisor restaurant, Old Captiva House, will open to those on island for breakfast, lunch and dinner, along with our always-fun Oasis Pool Bar for cool beverages. Finally, attention boaters: our Marina is now open and welcoming overnight dockage. You do not have to have a hurricane pass to stay. To request a boat slip, please call 239.671.0499 or complete our online form.