Schools in Fort Myers
Thinking about moving to Lee County, Florida and are wondering where your child will go to school? You have come to the right place! The School District of Lee County differs from other Florida school districts as well as those used in most other states. Families enrolling in Lee County Schools for the first time will find that school enrollment is not bound by a boundary drawn around a school (neighborhood schools). The enrollment concept (School Choice), developed around zones, provides Lee County families with added choice and flexibility enabling them to find the best fit for their child. Parents have multiple choices for the education of their child and are encouraged to research each school to find the learning environment that best meets the needs of their child. If you are interested in a private school, please visit our page Private Schools in Fort Myers.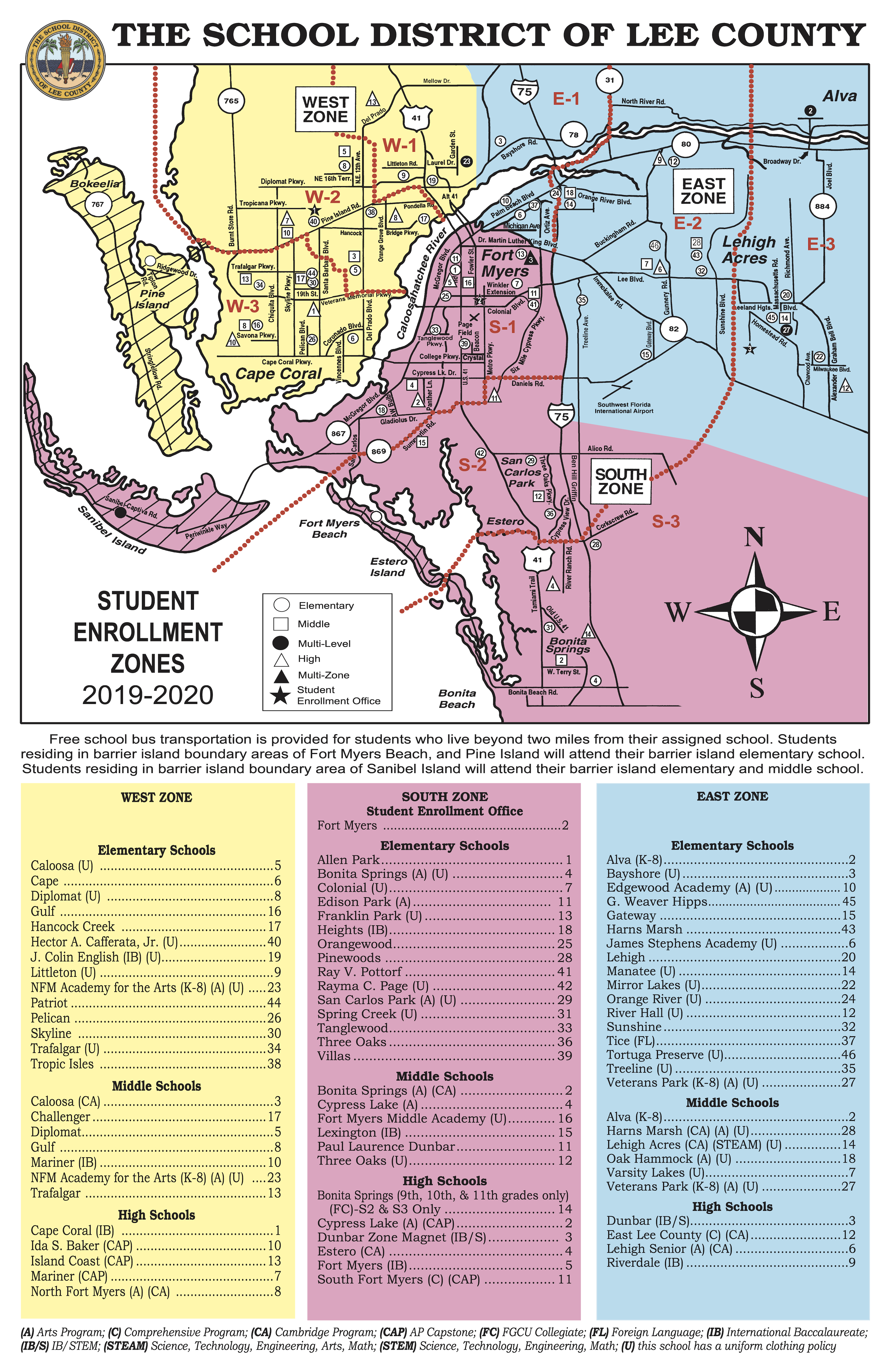 Factors Affecting Initial School Enrollment
In addition to parental preference, the primary factor relied upon by The Plan, other factors impact the enrollment of students to schools.
1. Instructional Capacity
Prior to making student enrollments for each school year, the Superintendent (or designee) determines the capacity of each school. The capacity determination for any school will include class size requirements, as required by Florida Constitution and state law. The capacity determination also may include seats set aside for ESE, or other specialized programs.
2. Sibling Preference
Parents may choose to request their younger child(ren) be enrolled in the same school by providing an application with all siblings on the same application. Siblings are defined as children residing at the same address and having the same guardians.
Parents with siblings currently enrolled in The School District of Lee County will receive written notification prior to the first enrollment period indicating that their siblings are enrolled in the same school for the upcoming school year. There is no need for the parent to complete any paperwork unless there is a request to change the school of enrollment.
Parents are responsible to ensure siblings connect via parents and address.
Children entering elementary school (kindergarten) desiring to attend the same school as a sibling is currently enrolled will be granted the request IF the parent completes an application during pre-registration, or during the first application period.
The District will attempt to give parents with siblings enrolling after the first application period priority in the lottery process; however, if capacity does not exist, the parent will need to decide to accept an enrollment to a different school for the incoming student or to move the siblings together to a different elementary school where capacity exists for their kindergarten child.
If a student has been "grandfathered" under the provisions of the Student Enrollment Plan the sibling is NOT guaranteed enrollment. *Transportation is NOT guaranteed in "grandfathered" enrollments.
3. Proximity Preferences - Proximity 1, Proximity 2 and Proximity 3
Each Residential/Choice Zone school has a "Safe-Walk Zone" (a two-mile range per Florida Statute) delineated by the District. The size of the Safe-Walk Zone varies according to (1) Residential/Choice Zone boundaries, (2) the reasonable walking distance limit defined by Florida Statute, and (3) safe walking conditions. Students who reside within the Safe-Walk Zone-Proximity preference 1 (P1) and select that school, are given a preference in the student enrollment process over students who live outside the P1 Safe-Walk Zone, subject to higher ranked priorities and capacity. High Schools have only P1 as a proximity preference. This is due to high schools offering specific programs that may attract students from multiple subzones within the zone. Students may choose to have longer travel times on the bus at the high school level to meet their educational needs.
Proximity preference 2 (P2) is implemented for students applying for grades KG through 8. This provides a second level of proximity preference from the end of the P1 area reaching up to approximately 5 miles.
Students residing in this zone will be provided a preference in the lottery for schools that fall within that distance from their permanent residence.
All students applying for grades KG through 8 that live beyond approximately 5 miles from a school will be provided a Proximity preference 3 (P3) to the school in their enrollment zone that is the closest to their permanent residence of equal weight to P2 in the random lottery.
4. Zone Attractor Programs
Requests for zone attractor programs are processed and enrollments are made in accordance with established policies and practices, subject to the student enrollment lottery, instructional capacity and applicable preferences. A zone attractor program choice is processed first. If a student is enrolled to a zone attractor program school, his or her application for zone schools will not be processed. Students not receiving an enrollment to the requested zone attractor program school will have their name placed in the eligibility pool for possible transfer to their first- choice zone attractor program school. Zone attractor programs are subject to revisions.
5. Random Lottery
A lottery process is used in situations in which the number of applicants for a school exceeds the available seats. Student applications are provided random numbers to determine the order in which their applications will be considered in the student enrollment process. If more students apply to a residential/choice school than there are seats available, enrollments are made to fill the capacity of the school according to the following preferences:
Zone attractor programs (unique curriculum program(s) specific to a school/zone)
ESE and special programs
Sibling preference
Proximity 1 (P1)
Sibling guarantee
Proximity 2 (P2) and Proximity 3 (P3)
Serious illness or death of custodial parent
Dependent child of active duty military personnel whose move is a result of military orders
Relocated due to foster care placement in a different school zone
A move due to court-ordered change in custody
Random lottery number
C. Grandfathering
Under The Plan, students have the option to continue in their current schools until they complete the highest grade offered at that school. Younger siblings at the school with older sibling will be required to move to a school within their residential sub-zone when older sibling completes highest grade offered. Such "grandfathering" includes students at zone attractor programs. Siblings of students enrolled at schools transitioning from one zone to another, from one sub-zone to another are not permitted to enroll at schools that are not in their Residential/Choice Zones. Transportation is NOT guaranteed under the "grandfathering" enrollment option.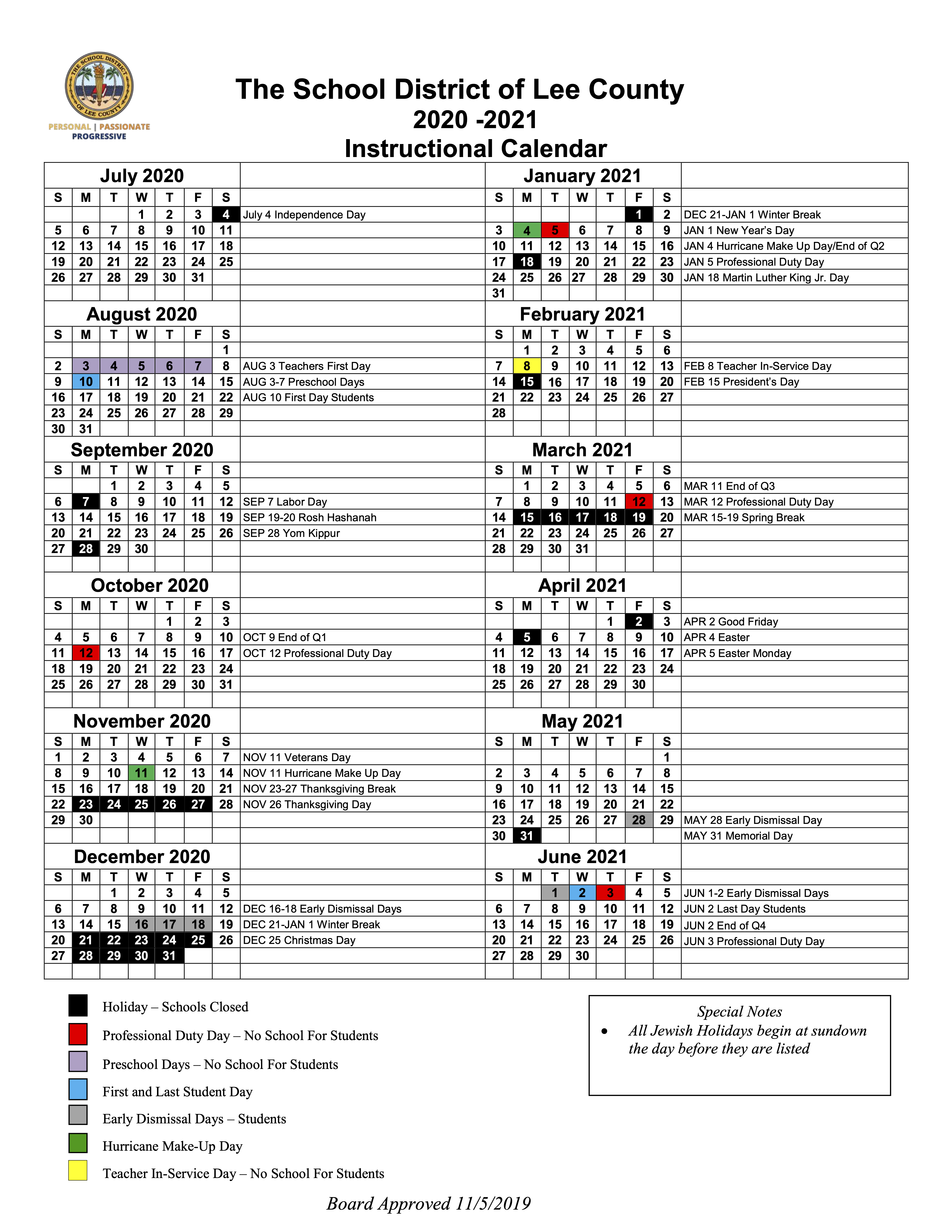 Private Schools in Fort Myers
If you are looking for private schools, please visit our page Private Schools in Fort Myers.